I wanted to share a couple of my favorite recipes for yall!
This is like eating candy without the worry of it being bad for you....almost. It does have sugar in it but I kid you not these things are ADDICTING. Try them, so easy, so yummy
This is the most amazing bread EVER! It is so good. Especially if you use bread flour. This one SAVED me when I was on no dairy. I would roll it out into a long roll and sprinkle cinnamon and sugar on it and it makes the most amazing cinnamon bread. Pretty easy one too.
Directions
BALSAMIC-GLAZED SALMON FILLETS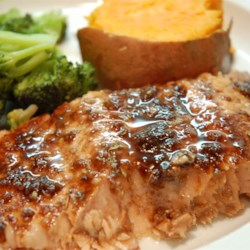 I have been wanting to try new fish recipes to see if we can work it into our routine meals more. Charles of course still wouldn't touch it but I LOVED this. It was so good. I doubled the sauce and used it as a little drizzle over brown rice. SO yummy.
Directions
More to come soon...those are just a few off the top of my head.